We Are Ophthalmology LTD
News & Events
Check back often for our latest news and events!
Dr. Karen Dickes Talks with On Call with the Prairie Doc
Friday, April 14, 2023
Glaucoma is a leading cause of blindness for people over 60 years old. But blindness from glaucoma can often be prevented with early treatment.
On Call with the Prairie Doc joined Dr. Karen Dickes from Ophthalmology LTD as she talks with us about Glaucoma.
Thank you Dr. Dickes for joining us and sharing your expertise.
Optometric Education Program 2023
Halloween Festivities 2022
Wednesday, May 4, 2022
Kristin Mohr has been finishing her final rotation with us and is finally graduating as an Optometrist this Saturday in Michigan College of Optometry - Ferris State University!
She has been exceptional during her time with us and we can't say enough good things about her! She graduates May 7th and gets married on June 17th and we wish her the best of luck with her career and marriage! Thank you, Kristin!
Ophthalmology Ltd. Welcomes Dr. Tyler Vermeer!
Thursday, April 28, 2022
We are proud to welcome Dr. Tyler Vermeer to the team at Ophthalmology Ltd.!
Dr. Vermeer attended Northwest College in Orange City, Iowa, before graduation from the Indiana University School of Optometry.
Over the last five years he has specialized in comprehensive medical optometry with a focus on the diagnosis and management of dry eye.
Dr. Vermeer is currently accepting new patients and is looking forward to serving the tri-state community.
Ophthalmology LTD is Now a AAAHC Accredited Ambulatory Surgery Center
Wednesday, June 2, 2021
Major congratulations to our Eye Surgery Center for going above and beyond the minimum standards for outpatient care and successfully completing a rigorous 2-day survey to become an AAAHC accredited ambulatory surgery center (ASC).
By applying to and successfully completing this survey, practices become a part of an elite force of organizations that prioritize quality for patients and staff. We are very proud of our ASC team and look forward to ongoing self-evaluation, peer review, and education to continuously improve our care and services. Keep up the good work!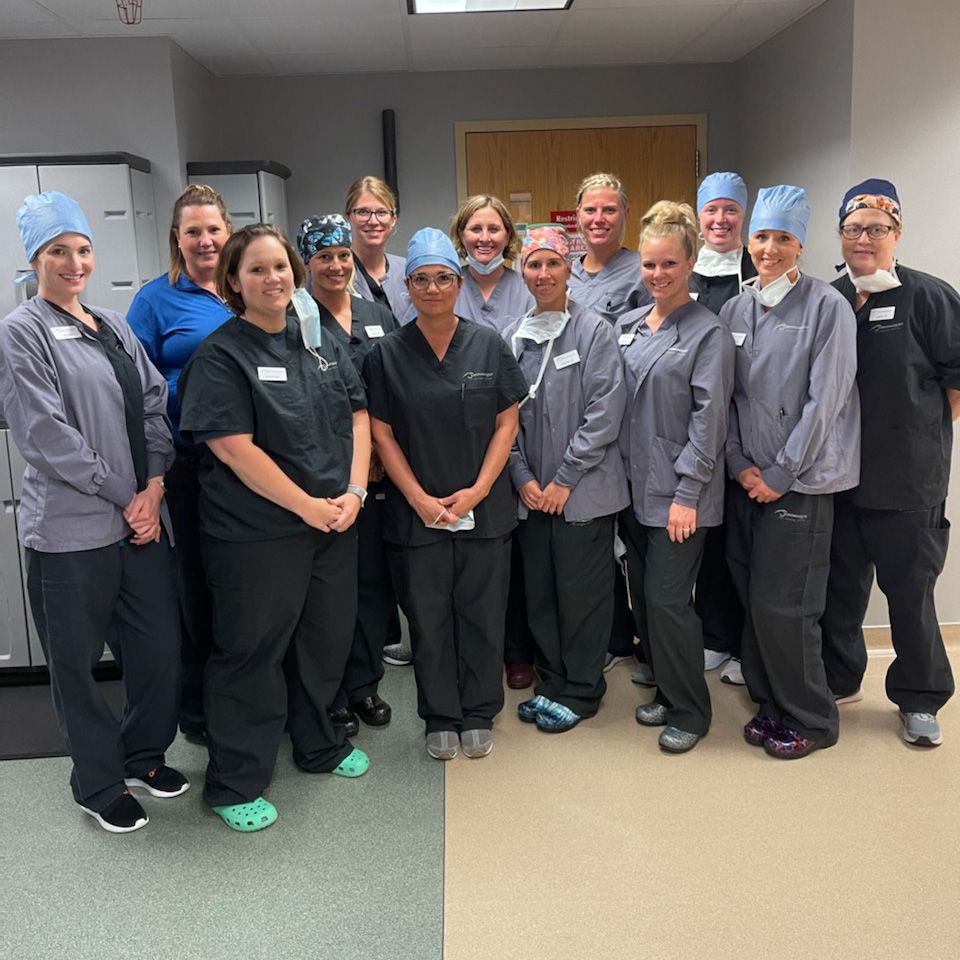 Optometric Education Program 2020
Saturday, January 25, 2020
Our physicians held their annual Optometric Educational Program this past Saturday.
It featured 10 speakers: Dr. David West, Dr. Greg Osmundson, Dr. Eric Thomas, Dr. Dustin Dierks, Dr. Ryan Geraets, Dr. Michael Eide, Dr. Elizabeth Atchison, Dr. Elise In't Veld, Dr. Andrea McCann, and Dr. Emily Walters.
Thank you to all that attended.
Health and Wellness Fair at Trail Ridge Senior Living
Thanks to everyone who stopped by our booth at the recent Health and Wellness Fair at Trail Ridge Senior Living! We enjoyed visiting with you about your eye health care!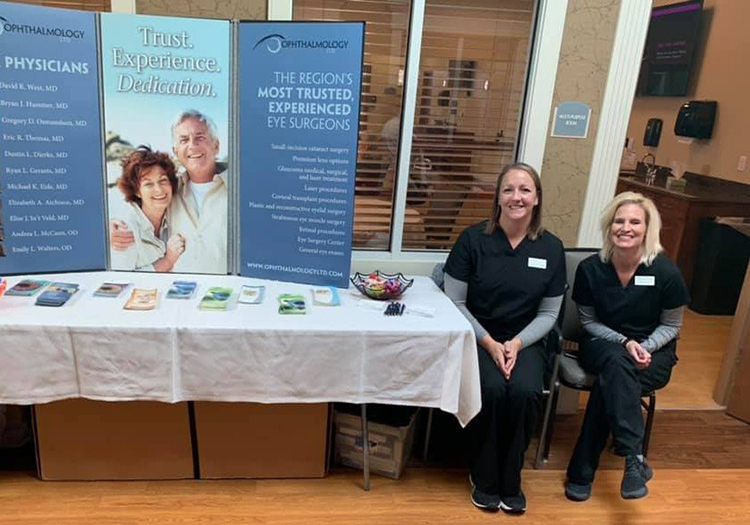 Sioux Falls Woman Magazine - October / November 2019
Help us congratulate Ophthalmology LTD doctors Elizabeth Atchison, MD; Elise In't Veld, MD; Andrea McCann, OD; and Emily Walters, OD for their recent feature in Sioux Falls Woman Magazine. Read their insights on how crucial regular eye exams are to your overall health.
Click the image to go to the article, then slide the page bar to pages 82-83 to view.
Dr. McCann Receives Golden Gavel Award!
In August, the Illinois College of Optometry, recognized Dr. McCann for her nine years of service on the Alumni Council by awarding her the 2018 Golden Gavel. This award is reserved for those who represent professional achievement, leadership in education, and excellence in philanthropy. Over the years, Dr. McCann has had the opportunity to give her time to her alma mater in a variety of ways by serving in every executive position, including president, within the Alumni Council.
Please join us in congratulating Dr. McCann on her hard-earned achievement!
Ophthalmology LTD Hosts Its 2018 Optometric Education Program
The physicians of Ophthalmology LTD would like to thank everyone who attended the 2018 Optometric Education Program for helping make this annual event so successful.
The field of eye care is always growing, and educational events such as this are a great way to evaluate new advancements and share our findings with fellow eye care professionals. At this year's program, attendees heard from all 10 Ophthalmology LTD speakers, including David West, MD; Bryan Hammer, MD; Greg Osmundson, MD; Eric Thomas, MD; Dustin Dierks, MD; Dr. Ryan Geraets, MD; Michael Eide, MD; Jonathan Erickson, MD; Andrea McCann, OD; and Emily Walters, OD.
We look forward to seeing everyone again next year as we continue to study and discuss the latest advancements and topics in eye care.
Happy 35th anniversary to Marilyn Landegent here at Ophthalmology LTD!
Marilyn has helped in many areas now working the last 25+ years with insurance. Outside work, she enjoys sewing, gardening, and canning. Her family life is also important with three children and six grandchildren including summer at the lake and Holidays with the extended family. Thank you for everything you do, Marilyn!
Lindsey Beckstrand Takes On Role As ASC Nurse Manager
After eight years with Ophthalmology LTD'd Eye Surgery Center, Lindsey has taken on a new role as ASC Nurse Manager! Congratulations on your well-deserved promotion, Lindsey!
A retinal detachment left artist Leo Thiner blind in his right eye, while glaucoma left his left eye visually impaired. Yet, despite his partial blindness, Leo continues to create his art to remind us that there is more than one way to see and enjoy life's beauty if we are willing to adapt.
Do you or does someone you know need help adapting to life with extreme vision impairment? We'd be happy to guide you towards the low vision experts who specialize in offering people with limited vision a chance to regain their lost independence. By teaching alternative methods for managing everyday tasks, these experts introduce patients to new ways of looking at and interacting with the world.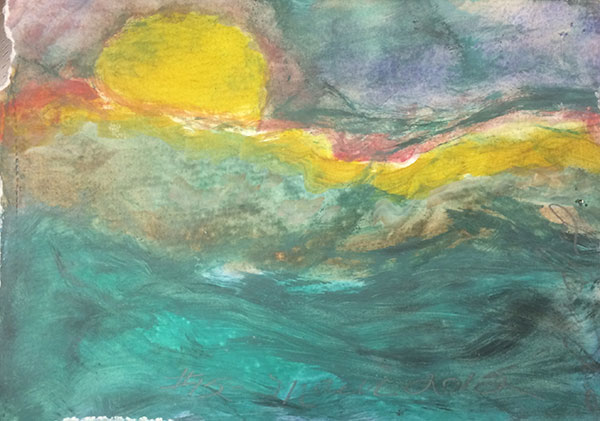 Thank you Dr. Dustin Dierks for your service on the AAO's Council representing South Dakota!
Dustin Dierks, MD was recognized for participation on the Council of the American Academy of Ophthalmology during AAO 2015 in Las Vegas.
The Council serves as an advisory body to the Academy's Board of Trustees.  More than 100 Academy members serve on this body and act as liaisons between their society and the Academy bringing issues identified by their societies to the attention of the Academy's Board of Trustees.
Ophthalmology Ltd. - Active Generations Health Fair
Avera Breast Cancer Awareness - 05/09/15
The Ophthalmology Ltd. participates in the Avera Breast Cancer Awareness race.
Thriving with Low Vision: Self Management of Daily Activities
Ophthalmology Limited is teaming up with the University of South Dakota School of Health Sciences (USD) to offer a free 4-week low vision program for adults ages 65 and up who are struggling to live with macular degeneration, diabetic retinopathy, or a visual acuity of 20/80 or less. The goal is to help patients manage everyday tasks despite living with low vision. Small group sizes ensure each patient receives care personalized to meet his or her own unique needs.
The program will take place on March 19th, March 26th, April 2nd, and April 9th (from 9 am–10:15 am or 10:30 am–11:45 am) at Ophthalmology Limited's Sioux Falls location at no cost to participants. USD Occupational Therapy students will work with six patients per session, covering topics such as home organization, task lighting, kitchen tasks and meal preparation, medication management, and more.
To register, contact USD School of Health Sciences at (605) 658-6500. We look forward to helping you thrive!
Congratulations to the Fifteenth Annual Ophthalmology Educational Scholarship Winner
The 2015 Ophthalmology Educational Scholarship goes to Cole Gebhart!
Cole, a Civil Engineering major at South Dakota State University, was selected based upon his academic record, potential to succeed, demonstration of leadership, past awards, work experience, statement of his educational goals, and participation in school and community activities.
In addition to this awarded scholarship, Cole has made the Dean's List 3 years in a row.
Well done, Cole!
Madison Satellite Clinic Coming in September
Have you heard the good news? Cataract surgery will once again be available in Madison! Our very own Dr. Michael Eide now has a Madison satellite clinic.
OLTD Recently Donated to the VA National Salute to Veteran Patients
We are proud to support the VA National Salute to Veteran Patients Valentines for Veterans Concert.
Congratulations To Our New Certified Ophthalmic Technicians
We would like to extend a congratulations to three of our clinical technicians, Jodi Harnack, Lisa Voss, and Denise Weeldreyer. They have recently attained their Certified Ophthalmic Technician (COT) certification. It was through their dedication to their profession that they invested time and effort in the pursuit of their education and certification. COT's are trained to perform advanced skills with a strong knowledge base. This certification is recognized and respected internationally in the professional community. We feel fortunate to have them as part of our team here at Ophthalmology, LTD.
Sioux Falls Area Blepharospasm Support Group Meeting
Save the date for Saturday, Sept 8, 2012. The meeting will take place at the Caille Branch Library in Sioux Falls from 1:30-4:00. Robert J. Morecraft, PhD from the University of South Dakota will be speaking at the meeting. Dr. Morecraft has conducted a number of research projects investigating brain circuits involved in BEB. Please RSVP to Deanna Hall at 605-996-8721 by August 30th.
Ophthalmology Ltd.'s Surgeons Observe Cataract Awareness Month
During August (Cataract Awareness Month), our surgeons expect to be handling more questions about what a cataract is - and explaining what it is not. Read the full press release.
Dr. Eide Featured on KELO News
Dr. Eide was recently featured on KELO News talking about South Dakota Lions Eye & Tissue Bank.
14th annual Gift of Sight & Health Charity Golft Tournament
Ophthalmology LTD. was proud to sponsor the 2012 14th annual Gift of Sight & Health Tournament. We had a great time and hope you enjoy our pictures from the event!
Sioux Rise Lions Club Sponsor
Ophthalmology Ltd. is a proud sponsor of the Sioux Rise Lions Club 2012 annual concert fundraiser.
11th annual Gourmet Guys fundraising event
Ophthalmology Ltd. was a proud particpant of the 11th annual Gourmet Guys fundraising event on April 22, 2012 benefiting the programs and services for Active Generations.
2012 AAO Leadership Development Program
Congratulations to Dr. Thomas for being selected to this years AAO Leadership Development Program in San Francisco. Here is a picture of Dr. Thomas and the president of the AAO, Ruth Williams, MD.
Opthalmology LTD Cookbook
Our employees published a cookbook this year, to raise money to donate to an area of need in the community. We are proud to announce that we have picked The Banquet as our organization of choice this year, so that they may make the holidays more merry for those less fortunate in our community.