The retina functions much like the film in a camera, and when film is damaged, so is the picture. Our retinal specialists Drs. Geraets, Thomas, and Atchison  offer comprehensive retinal exams and treatment to protect against diseases such as diabetic retinopathy that can damage your retina and vision.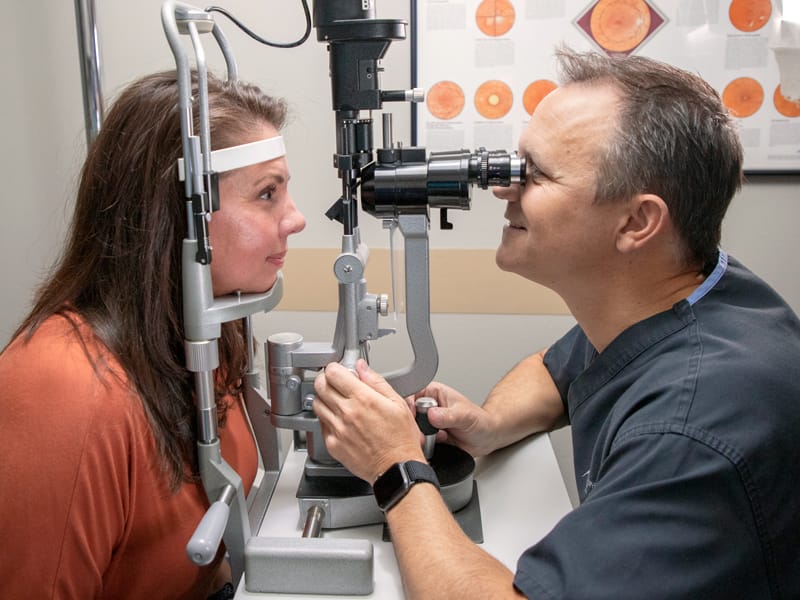 If you have a problem that involves the RETINA or VITREOUS, you may be referred to one of our ophthalmologists who specializes in diagnosing and treating retinal disorders. Drs. Eric Thomas, Ryan Geraets, and Elizabeth Atchison are Ophthalmology LTD's retinal subspecialists.
The retina is a very thin layer of tissue that lines the inner part of the back of the eye and functions like the film of a camera. The retina captures light that has traveled through the lens of the eye, then transmits that image to the brain so that it can be processed into a visual image.
The retina doctors at Ophthalmology LTD have had special training in treating retinal conditions and diseases. They take great care in diagnosing and treating problems and diseases of the retina, including macular degeneration, diabetic retinopathy and retinal detachment.
What is a retinal specialist?
A retinal specialist (sometimes called a "vitreo-retinal" specialist) is a board-certified ophthalmologist with additional sub-specialty training and an advanced level of competence in the diagnosis and medical-surgical management of disorders that affect the eye's retina, macula, and vitreous.
Drs. Geraets, Thomas, and Atchison are fellowship-trained and have extensive experience in treating retinal problems.
What are some common retinal eye disorders?
Karen's Story: Retinal Detachment
"I highly recommend the doctors and all of the nurses, the staff at Ophthalmology LTD. They go above and beyond the call, and if you have any emergency needs, any general eye needs, they're the ones that I recommend."
What does "fellowship-trained" mean?
It takes at least 14 years of education and training to become a vitroretinal specialist.
To become eye surgeons, Dr. Geraets, Dr. Thomas, and Dr. Atchison completed four years of college, four years of medical school, one year of internship, and three years of residency training in ophthalmology. They then completed two years of highly-specialized fellowship training in their vitreoretinal subspecialty.
Those years of training and experience add up to the expertise you need on your side when a retinal problem threatens your vision.
What happens during a retinal examination?
It is our privilege and commitment to serve you with the highest quality eye care in the region. The eye surgeons at Ophthalmology LTD strive to stay on the forefront of treatment and related technology.
As you visit our retinal specialists, you will note that often times there can be numerous elements to your exam. Please familiarize yourself with the following to ensure that you have a comfortable and informed exam:
You need to plan to be dilated for every exam. Retinal specialists treat the retina, which is located at the back of your eye. Dilating the pupils of your eye is the only way the physician can assess the health of your retina effectively.
It is very common to have lab testing that accompanies your visit to the retinal specialists. There are a number of tests that help the physician diagnose, treat and monitor various retinal problems.
A typical exam is 1 to 2 hours or more due to the extensive nature of retinal testing and each patient's unique situation. Please plan ahead of time to have assistance with driving to and from the clinic. Driving with dilated pupils is not advisable.
Due to the length of the average retinal appointment, we recommend that diabetic patients come prepared with a snack or drink to help regulate your blood sugar.
The doctor may prescribe medication, laser surgery, or another surgical procedure. Most of these procedures can be performed on an outpatient basis in our Sioux Falls office's state-of-the-art surgery center. Your doctor will discuss the recommended treatment with you and answer your questions.